SWC: Community Starts Here
"We're giving where we're living"
What a dynamic year we have ahead, renewed in our commitment to our founders' original purpose~the loving care of Sausalito.
Your Executive Board and I are very grateful to be given the opportunity to serve you.  We have planned a year of programs and projects around the rich history and culture of our community.  We've expanded our Community Enhancement, Civics and Donations committees to focus on the needs of Sausalito. We're in dialogue with other service organizations to support their efforts for preservation and beautification. Our continuation of support to our outstanding Scholarship Program remains paramount and we're developing a special fund-raiser this January to make our increased gifts to the community possible.
Our historic clubhouse and the land it sits on was a gift. The property and half the mortgage was contributed upon the death of a member's beloved husband, so that we could realize our purpose…to create a center of thought and action through art, literature, language, music, theater and civics, to promote whatever tends for the best interests of this city.  We cherish and care for this beautiful building. And, we will honor his gift by sharing it; opening the clubhouse for tours, as a polling place, staging of the Sausalito Players, our annual Holiday Party, and many other community events.
Our theme for the year is: "SWC: Community Starts Here."  And so our brand is now, "Community".   Our motto is: "We're giving where we're living".
This vision and our renewed direction to t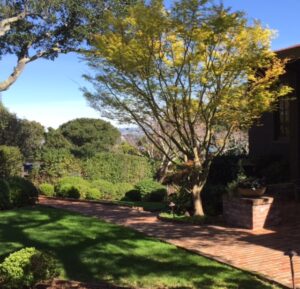 urn our attention outward needs your very personal involvement.  Let's work together to make it a truly expansive year of inspiration, giving of our time, talent and treasure to the community, just as we give to each other, our beloved friends, when we are sick, troubled, lose a loved one, or just want to share our blessings, and celebrate joyful times together.  As the song says, "Nobody does it better." We have a very proud legacy of continued service for the last 102 years. Let us celebrate that we are truly a visible force for good, filled with energy, working in concert, and growing together!
And, lastly, on a personal note, I reverently borrow the quote from the humble Father of our Country, George Washington, upon being chosen president:
"While I realize the arduous nature of the task which is conferred on me and feel my inability to perform it, I wish there may not be a reason for regretting the choice.  All I can promise is only that which can be accomplished by an honest zeal."
With much love and gratitude, 
Elizabeth O'Keefe
President, 2015-2016