Dear SWC Members,
On behalf of the 2015-2016 Board of Directors of the Sausalito Woman's Club Preservation Society (SWCPS), we extend our sincere thanks for ALL your support last year.
This beautiful building is nearing its 100th birthday and it has been an honor to volunteer time and energy for the preservation and restoration of the Clubhouse, to be able to share this treasure with the public, but to always be reminded of the special place this clubhouse is to all the SWC members.   With the women like the ones I have had the pleasure to work with on SWCPS boards over the years, it is very conceivable that the preservation of this landmark clubhouse could well go on for another 100 years. What a lovely thought for so many Sausalito women who call this a second home!
The SWCPS board was busy this last year as we undertook a very thorough examination of our 501c3 charitable activity compliance in order to ensure our stewardship of the clubhouse was up to date and compliant for years to come.   The SWCPS board accomplished the following:
Tax status change to a Publicly Supported Public Charity,
Revised Bylaws for update and compliance purposes,
Preservation and Access Easement Agreement between the SWC and SWCPS that outlines SWC public docent tour conditions and SWCPS charitable activity for the historic building,
SWCPS Grant Process that utilizes the "Secretary of the Interiors Standards for the Treatment of Historic Properties",
The addition of two new board members in the fall of 2015 and five new board members in June 2016.
Despite the arduous aspects of completing these compliance requirements last year, SWCPS still accomplished two small charitable events.  The first was a SWCPS "Sherry Hour" in October 2015, featuring Mark Wilson, Architectural Historian, who presented and discussed his new book called "Frank Lloyd Wright on the West Coast".
Our second event, at the end of April, was a two day event called "Let's All Eat Cake".  This event, honoring the SWC women who have spent time, energy and resources in the preservation, and restoration of this historic clubhouse, was a Saturday night cocktail party and a Sunday open house. Fabulous layer cakes were made by SWC Members and on Saturday night, renowned architectural historian Karen McNeill presented "Julia Morgan: Myths and Truths".  This was a fun, intimate look at Julia Morgan as everyone enjoyed cocktails and cake.
At the end of June, the yearend potluck was a celebration of old and new. SWCPS had four retiring board members:  Phoebe Fielding, EV Gilbreath, Cynthia Mason and Elizabeth Nelson.  They will be missed after many years of service, however; the SWCPS board welcomes and will be energized with new members who bring great enthusiasm and talents: Carol Carlson, Denise Gustafsson, Mimi Reich, Katrina Slattery, and Marjorie Thomas along with our new SWC President, Laurie Wright as Ex-Officio.
With renewed spirit, compliance issues behind them, and very challenging fund raising goals, the new 2016-2017 SWCPS Board will be hitting the ground running and back to the business of creating exciting fundraisers and sharing the clubhouse with the public under SWCPS Chair, Barbara Sutak.  We wish them all congratulations and support!
---
2015-2016 Board of Directors
Cynthia Mason, Chair
Susan Watson, Vice Chair
Leslie Hail, Treasurer
Barbara Sutak, Corresponding Secretary
Directors:             
Pam Abendroth           Elizabeth Nelson
Phoebe Fielding          Maria Paterno
EV Gilbreath               Arliss Willis
Susan Gordon
Sande McGarry, SWC Treasurer, Ex Officio
Liz O'Keefe, SWC President, Ex-Officio
Meg Winter, Community Director
---
Total Income for SWCPS in 2015-2016 was $29,881.
Annual donations were up 59% over 2014/2015, which was also up 26% over 2013/2014.
This last year, the SWC experienced a very large dues increase.  This in conjunction with the SWCPS focusing on compliance issues, and not being able to accomplish any significant fundraisers; the annual donation support of $19K was just incredible!   This was just the motivation the board needed to keep moving forward on their goals last year.  We are sincerely grateful for your support of the SWCPS mission!  Thank You!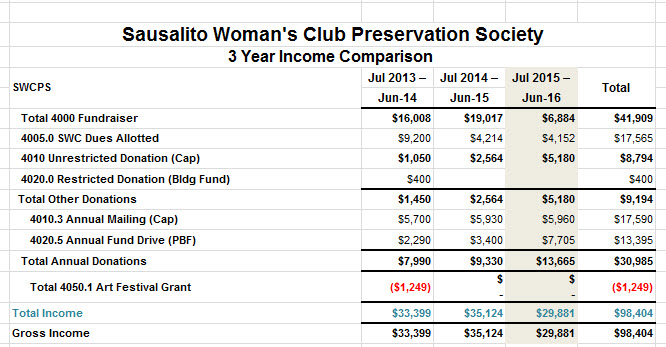 ---
2015-2016 SWCPS Donors
| | |
| --- | --- |
| Pam Abendroth | Susan Keegin |
| Frances Alioto | Donna Kolkey |
| Jola Anderson | MaryKae Krause |
| Ann Huerlin | Barbara Lockhart |
| Mary Ann Dietrich | Cynthia Mason |
| Ann Arnott | Alice May |
| Karen Roark | Babette McDougal |
| Shannon Baker | Margo Merle |
| Judy Belding | Alice Merrill |
| Michele Benjamin | Carolyn Merrill |
| Anne Bomford | Linda Neilsen |
| Sharon Call | Elizabeth Nelson |
| Lucinda Callaway | Nancy Osborn |
| Janet Chapman | Maria Paterno |
| Cloverdale Historical Society | Cheryl Popp |
| Carol Cotton | Carol Raisbeck |
| Nancy Curran | Marilyn Riede |
| Nancy Curran | Susan Roegiers |
| Ann Dinelli | Sylvia Ruby |
| Lillian Donald | Jean Schurtz |
| Kathleen Earley | Sharon Seymour |
| Loreen Ediger | Cheryl Spady |
| Phoebe Fielding | Gail Sterling Smelick |
| JJ Jennifer Flynn | Barbara Sutak |
| Carolyn Ford | Linda Swanson |
| Lauren Gertz | Marian Taylor |
| EV Gilbreath | Nancy Terry |
| Mary Goff | Shelby Van Meter |
| Holland Gray | Johanna Vandermolen |
| Denise Gustafson | Suzanne Visher |
| Leslie Hail | Paige Vitousek |
| Diane Hansen | Ciji Ware |
| Kim Huff | Susan Watson |
| Nancy Kaltreider | Arliss Willis |
| Barbara Kavanaugh | Millie Zinman |
| | |
---
PROJECTS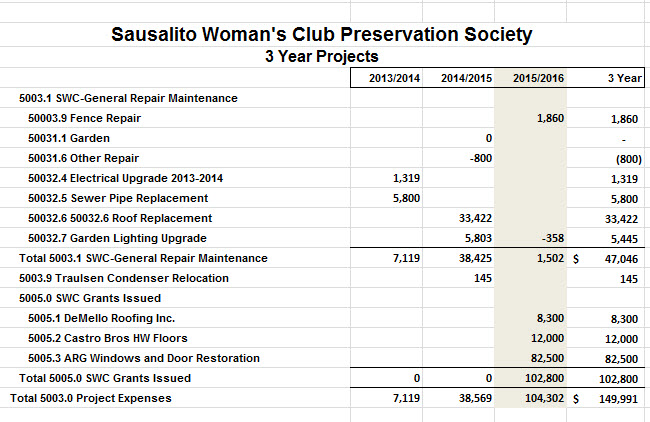 Over the last three years, the SWCPS has provided capital maintenance funds for the historic landmark clubhouse in the amount of $149,991.  These projects were planned for and the timing expected.  The majority of these projects are finally being completed this summer through the new grant process.
This will mean the SWCPS will be slightly behind on the accrual for capital maintenance projects but they anticipate with fundraisers back in full swing this year, they will be able to catch up in a few short years to the planned maintenance schedule amount.
---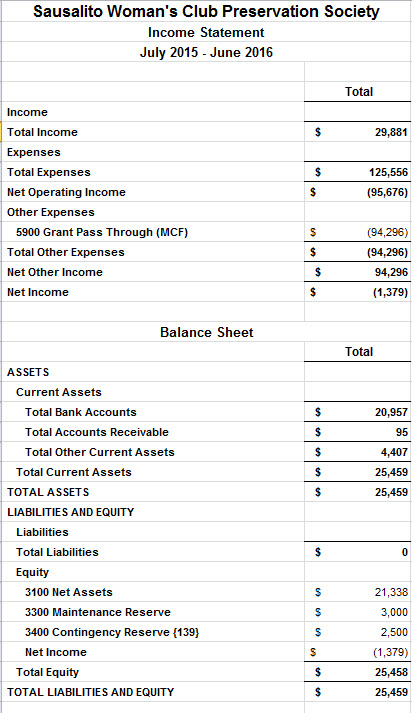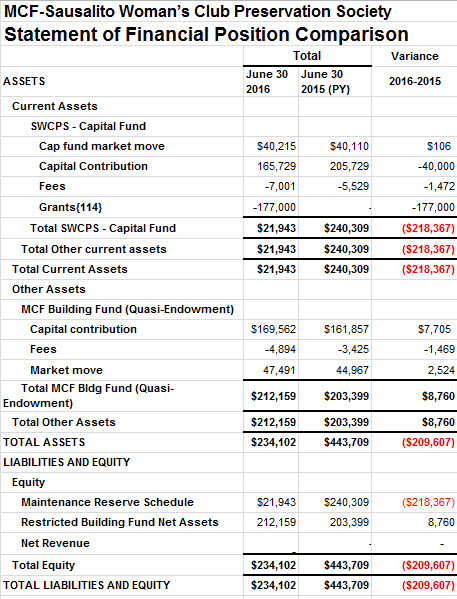 SWCPS Financials
Income for last fiscal year has been displayed in detail under "SWCPS Income 2015-2016 "of this annual report. Total expenses incurred include project expenses, professional services (accounting and legal), and all other operating expenses such as postage, printing, registrations, bank fees, etc.
The SWCPS Balance sheet reflects the operating account balance through 6-30-2016. One outstanding check issued to MCF that was approved by Board on 6-20 for $34,500, is reflected in this balance but not reflected on the MCF balance sheet as it was in transit to MCF.
Marin Community Foundation
The SWCPS oversees two Marin Community Foundation (MCF) funds, each with specific goals for the Sausalito Woman's Club Preservation Society.
Capital Account – Capital Reserve Funds are primarily for major capital expenditures or substantial
deferred preservation projects that have been planned for in the capital budget process.  This has been our best plan of what intelligent supposition dictates we should set aside through the end of each fiscal year. These capital projects begin after grant requests have been accepted from the SWC Executive Board.
The MCF Quasi-Endowment Fund is a long term fund that will eventually provide an additional funding source through interest and dividends to the long term capital maintenance of the historic Julia Morgan building. These supplemental funds provide, if necessary, additional income so that Preservation can pursue its charitable activity and mission each year despite fluctuations in the economy, or annual fund-raising campaigns.  Secondly this fund will be an emergency use fund in the historic reconstruction in-kind of the historic Julia Morgan clubhouse should an "act of god" or unforeseen major financial shortfall happen due to under or uninsured major disaster or repairs needed.