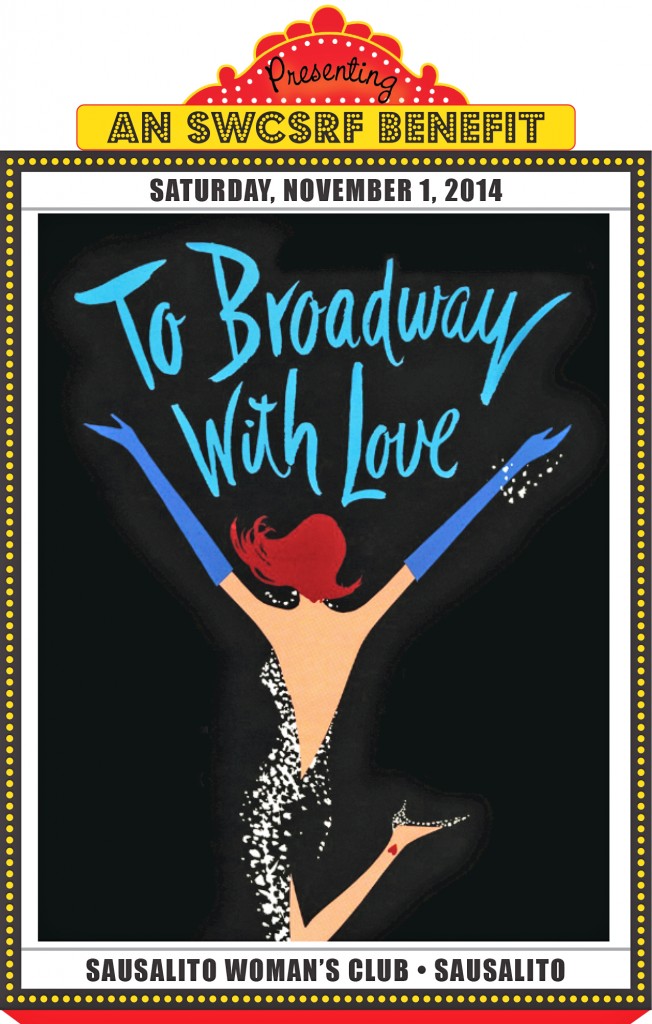 To Broadway With Love
 BENEFACTOR
Judy Barber & Steve Fabes, Karen & Mark Cleary, Kim & Bruce Huff, Arliss & Steve Willis
PATRON
Michele & David Benjamin, Marinda & Orlando Lobo,  Kay Mitzel, Elizabeth Nelson,
Susie & Christopher Visher, Myralin Whitaker, Millie & Ed Zinman
CONTRIBUTOR
Jean & Bill Patterson, Carolyn Merrill, Nancy & Jim Osborn
Artist Biographies in Alphabetical Order
ALAN CHOY I PIANO: Alan has feted such luminaries as Audrey Hepburn, Shelley Winters, Gloria Swanson and Stanley Donen. He has accompanied Carol Channing, Dame Edna, Tyne Daly, Lea Salonga, Frederica von Stade and Joel Grey. Alan has been part of the cabareUtheater/cate scene since 1978. Credits include The Ritz Carlton, the 1989 Oscars, and Martuni's Piano Bar in San Francisco. We have known and loved Alan for several years as he has played for numerous SWC and community events.
DEIDRE GREEN: Australian-born, Deidre Green, a veteran of musical theatre, performs in cabaret and sings with several local jazz groups within the Bay Area. In addition to stage and club work, Deidre also provides voiceover talent for children's educational products (including Disney) as well as numerous corporate presentations. She returns to our stage from Scholarship's 2011 "Starlight Cabaret".
DONALD REINHARDT: A tenor, Don has lived in the Bay Area for over 22 years, having been born and raised on the east coast Don has made a "second career" with music, singing with the Slavyanka Russian Chorus for the past 10 years and recording on their two most recent CDs. He is currently performing in a variety of genres including Broadway, cabaret, classical, opera, and world music, with numerous solo, duet, and group performances around the Bay Area.
PEEK SAWYER: Peek Sawyer returns to the SWC stage from Scholarship's 2011 show, "Starlight Cabaret". Born in San Francisco, Peek has written, produced, and sung on hundreds of advertising jingles and has performed in many Bay area clubs. His big-band, pop-jazz album, "Love Is Where You Find It" is on iTunes. Coming from an entertainment background, Peek's love of live audience shows always includes laughter, dance, stories and songs.
JENNIFER SEAMAN: Born and raised in Ohio, Jen moved to the Bay Area in 2003 to further her education at San Francisco Conservatory of Music. Having earned her Master in Music in Vocal Performance and Post-Graduate Degree in Vocal Performance, Jen currently hones her passion for music singing at special events and weddings and as a frequent soloist and choir member at Sausalito Presbyterian Church. She serves as the Executive Assistant to the President at San Francisco Conservatory of Music.
THE BAND
CHUCK ERVIN I BASS:  Bassist Chuck Ervin performs swing music with the Sylvia Herold Ensemble, folk music with Euphonia, classic country with the Mike Stadler & Mary Gibbons Band, jazz and pop with guitarist Chris Grampp, and Celtic folk/rock with Wake the Dead. He has worked with many Bay Area musicians including Bobby Black, Joe Craven, Ed Johnson, Jinx Jones, Keith Little, Tony Marcus, Jim Nunally, Jeff Sanford, Julian Smedley, and Radim Zenkl.
STEVE MALERBI I DRUMS: Steve Malerbi plays mainly jazz, backing local singers and instrumentalists. He's been a longtime member of the James Moseley Trio, Quartet and Big Band, recently played the Cotati Accordion Festival, and is an on call member of The Lucky Devils band, playing weddings and corporate events. He also is an accomplished chromatic harmonica player with his own group, Harmonica Jazz.
Raffle and Auction Donors
A.C.T
All Outdoors, CA Whitewater Rafting
Barrel House Tavern
David & Michele Benjamin
The Blenders
Ron Cornelison
Candace Curtis
Chianti Cucina
Mary DeMund
Mike Denney
Don Antonio Trattoria
Driver's Market
Arthur Drooker
Elite Limo
Carol Epstein, Casa Madrona Spa
Lucinda Eubanks
Farmshop Marin
Five Stars Yacht
Frantoio Ristorante
Gallery 291
Gene Hiller Menswear
Greens Restaurant
Hilary Grenier Landscaping
Hilltop 1892 Restaurant
Leslie Hail
Pamela Henry, Sausalito Sweets
Il Davide Restaurant
The Image Flow
Inn Above Tide
Jacuzzi Family Winery
Vern Jacobs
Jewelry by the Bay
Katya Glass
Lark Theater
Left Bank Brasserie
Lily Kai Restaurant
Magic Theatre
Marco Art of Hair
Marin French Cheese Company
Tracey O'Hare, Mill Valley Rec. Center
Palio D'Asti
Pushpa Ram, Experience Salon
Bonnie Penprase
Ristorante La Toscana
Pat Ronzone
Gil Purcell & Roxanne Sheridan
[one_fourth_last]
San Francisco Opera
Sausalito Park & Recreation
Sausalito Public Library
Sausalito Police Chief, Jennifer Tejada
Sean Saylor
Saylor's Restaurant & Bar
Smuin Ballet
Heidi Snowden
The Spinnaker
Holly Stewart
Tommy's Wok
WildFox Restaurant
[/one_fourth_last]
And the Sausalito Woman's Club Board & Sausalito Woman's Club Scholarship Recognition Fund Board for the Wine Donations