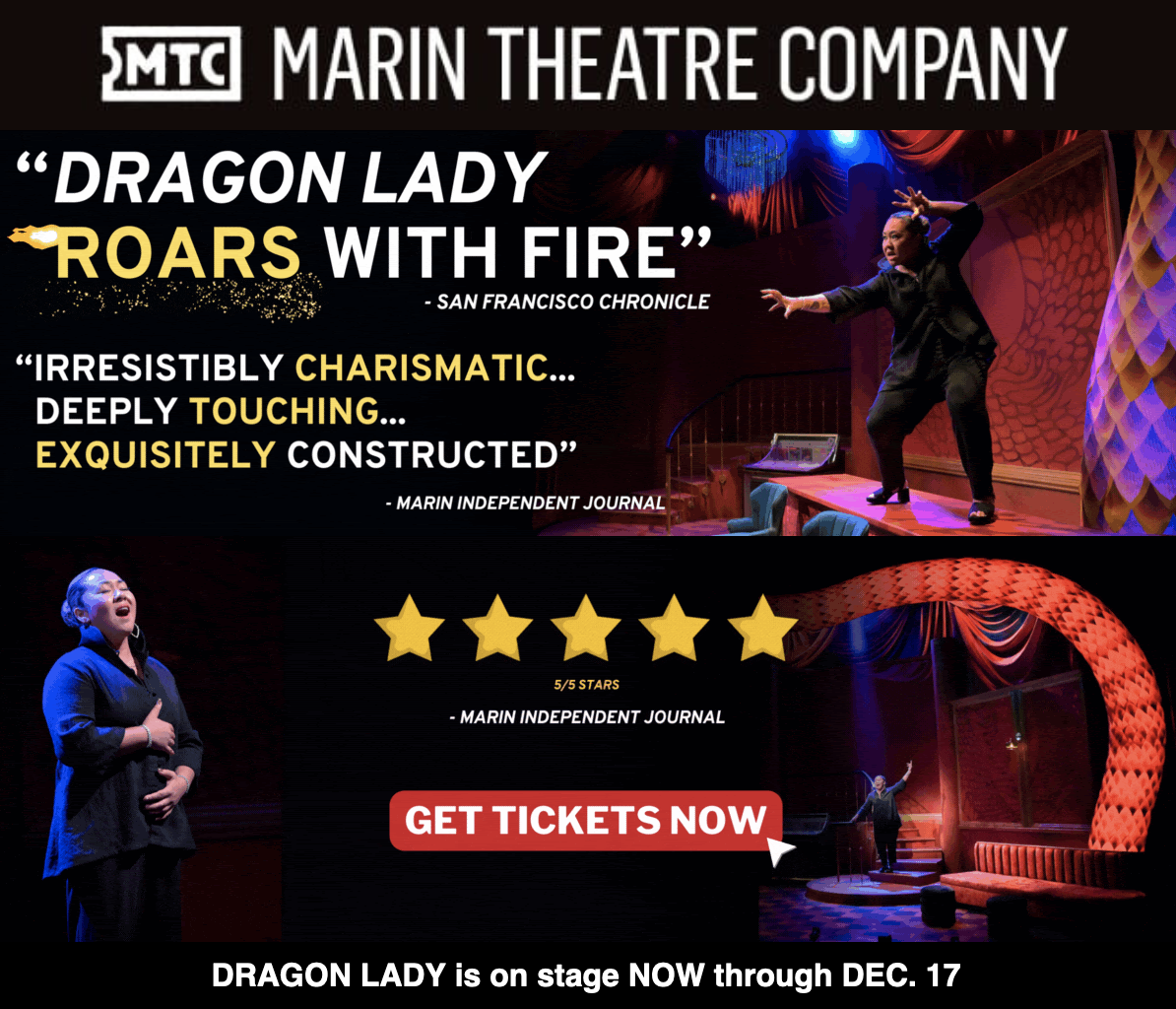 Award-winning, one-woman musical, with a 3-piece jazz band. Storyteller and activist Sara Porkalob portrays dozens of characters through 50 years of memories and adventures in her Filipino-American family.
1 PM – Join us for a pre-show talk
2 PM – Showtime!
Tickets on sale now (BUY TICKETS HERE)
USE THIS CODE – MTCSWC for $7 discount
Contact MTC box office (415–388–5208)
Tickets from $70 for General, $66 for seniors, $35 for students
Bring your friends
Co-Chairs Candace Curtis and Julie Carlsen
THE REVIEWS ARE IN!
S.F. Chronicle and More RAVE for "Exquisitely Constructed" Dragon Lady
"a gripping, hilarious and heartbreaking tale…the way Porkalob brings it all to life is a triumph." – Marin Independent Journal
"From the second she hits the stage, Porkalob is riveting, grabbing us…with nonstop emotion…She is flawless."- Theaterstorm
On November 28, Dragon Lady opened to an audience with mouths agape at the stunning set: a nightclub framed by a glowing dragon's body. When Sara Porkalob hit the stage, accompanied by members of the stellar jazz ensemble Hot Damn Scandal, audience and press reviewers alike were hooked for good.
"Porkalob continually homes in on just the right indelible detail to make each in an array of characters come to distinctive life," writes Lily Janiak of the San Francisco Chronicle; she goes on to note that Sara's voice "blends with the brass so fluidly you'd think the instrument had been invented for her." Marin Independent Journal goes on to write that Dragon Lady is "a wonderful piece of work, exquisitely constructed and performed with a ton of humor and heart."
From the ushers at the front of the house to the audience members driving in from outer cities to catch a glimpse of this vibrant show, the effect is the same – breathtaking and unforgettable. Don't miss a chance to meet the many characters of Sara Porkalob's magnificent Dragon Lady.