Sausalito Woman's Club Scholarship Recognition Fund Awards $65,000 to Local Students
 Sausalito, Ca. – June 5, 2016 – The Sausalito Woman's Club presented $65,000 in educational scholarships to thirty-seven high school graduates and college students from Sausalito and Marin City on Sunday, June 5. The scholarships were awarded at a special ceremony and reception held at the Sausalito Woman's Club to honor the students.
SWCSRF Chair Kim Huff welcomed more than one-hundred guests to the event, congratulating and praising the scholars, "We are so pleased to be able to support such incredible students. During the year we spend much of our time fundraising, this year being no exception. It is our goal to have awarded a total of one million dollars by the end of next year and to continue our mission of supporting our community for another 60 years!"
This year, twelve scholarships named for individuals and organizations that have been a special part of the SWCSRF were awarded to the following students:
Mariah Ashby – Sausalito Presbyterian Church Scholarship
Gian-Paul Bergeron – Michael B Heyman Memorial Scholarship
Stephen Bordes – Gilbert Purcell & Roxanne Sheridan Scholarship
Malachia Hoover – Lobo Family & Brandon Yates Scholarship
Linh Huynh – Nancy Debruyn/Shannon Bell Memorial Scholarship
Skye Lee – Sausalito Woman's Club Scholarship to honor Sylvia Ruby
Talia Leider – Sausalito Woman's Club Memorial Scholarship
Dylan Meade – Phil Frank Memorial Scholarship
Ayana Morgan-Woodward  – Michele & David Benjamin Scholarship
Julia Piedimonte – Brenda Charles Delano Scholarship
Jasmine Roary – Elaine B. Squires Memorial Scholarship
Madeleine Sandrolini – Elizabeth McBride Scholarship
The SWC Scholarship Recognition Fund was established in 1956 by members of the SWC in order to provide financial support, encouragement and acknowledgement to deserving students seeking higher education who reside in Sausalito or Marin City. The Fund is supported by donations, proceeds of numerous fundraising activities and commemorative and memorial gifts. Over the past 60 years, the program has awarded in excess of $945,000 in local scholarships. The SWCSRF, a 501(c) 3 non-profit organization, is governed by a 12-member Board of Directors made up of SWC members.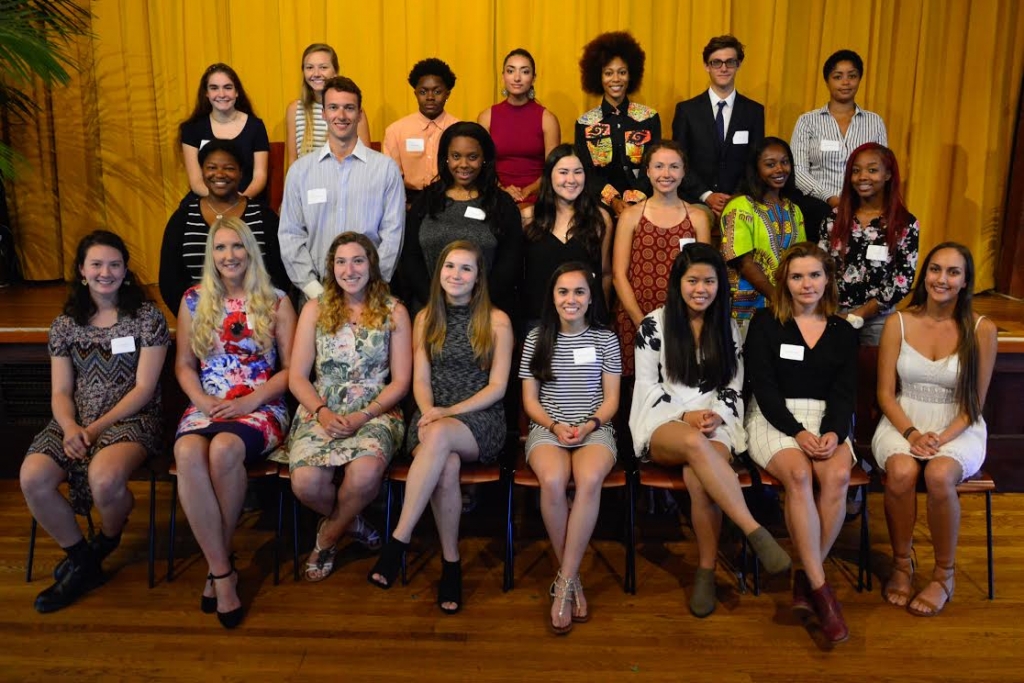 (Photo by Jean Schurtz)
 Sausalito Woman's Club Scholarship recipients 2016-2017. FRONT L to R: Anna Dawson, Linnea Hagens, Colby D'Onofrio, Talia Leider, Shannon Courtney, Linh Huynh, Emma Delaporte, Jade Zeeman. MIDDLE L to R: Skye Lee, Stephen Bordes, Ayana Morgan-Woodward, Lily Mark, Megan Bordes, Mariah Ashby, Hadji Fall. BACK L to R: Julia Piedimonte, Rachel Bordes, Ayinde Mitchell, Vanessa Imani, Yemi Yasmin, Dylan Meade, Malachia Hoover (Not pictured: Usama Azam, Gian-Paul Bergeron, Altimonte Bolton, Early Cobb, Blanche Duann, Sarah Leider, Lea Mixon, Cole Porter, Jessica Rasmussen, Jasmine Roary, Noorisingh Saini, Saahil Saini, Madeleine Sandrolini, Nicole Vandenberg)