"BUY YOUR TICKETS NOW-CLICK THIS BUTTON"
$40 REGULAR TICKET- . Entrance Donation Fee to the SWCPS Harvest Festival includes appetizers from a local Michelin trained chef who has designed these for the Harvest Festival, some of our own favorite in-house appetizer makers, Madrigal wines and Jardesca Apertiva  wine tastings, Divers market bringing specialty items along with Amphora Nueva olive oil, Essence by Chocolate, Enchante macaroons  and Roastco coffee who also will be providing tastes.  A wonderful jazz chanteuse who will be entertaining us as you wander and look at the featured artists work and to top it all off, we have Williams Sonoma- Corte Madera who will be doing professional cooking demonstrations.
Also featured our own Preservation Pantry which includes homemade jams, chutney, wild honey etc. handmade from our members.  Verbena Chocolat for gift items, Farms Fresh to You CSA information, and our course our wonderful silent auction with over 20 wonderful offerings.  All these things are unique and special for the day!
$55 BUNDLE TICKET – ALL THE SAME FEATURES AS THE $40 REGULAR TICKET PLUS ONE SILVER "Caviar and Champagne" Tasting and ONE glass of premium wine from bar. 
ADDITIONALLY, CAVIAR FLIGHTS ARE SOLD SEPARATELY
Silver Flight $25
Choice of Champagne (1 Glass):
plus 1 Premium Caviar and 2 Signature Caviar's
Gold Flight $35
Choice of Champagne (1 Glass): 
plus 2 Premium Caviar's and 1 Signature Caviar
——————————————————————————————————————————————————————————————————————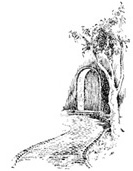 The Sausalito Woman's Club Preservation Society is a 501(c)(3) nonprofit organization established specifically to preserve and enhance our historic clubhouse designed by Julia Morgan, California's first licensed woman architect. To this end, yearly events are held that generate monies dedicated to maintaining the clubhouse and grounds for the present and the future. More recently, the Legacy Society was created to provide a mechanism for members and friends of SWCPS to donate through planned giving.
 The Society also receives funding from SWC dues, grants, annual contributions, memorial gifts and outside donations which are tax-deductible, thanks to our non-profit status.
 Donations can be sent to: SWCPS, P.O. Box 2488, Sausalito, CA 94966. Our Federal Tax ID is: 68-0225397.
OFFICERS FOR THE FISCAL YEAR 2014-2015
Chair:              Cynthia Mason
Vice Chair:     E.V. Gilbreath
Rec Sec'y:      Camara Scremin
Corr. Sec'y:   Christine Butler
Treasurer:     Carolyn Merrill
Directors:      Pamela Abendroth, Carol Cotton, Phoebe Fielding, Susan Gordon, Leslie Hail, Elizabeth Nelson, Susan Watson
Ex-Officio:     Michele Benjamin, SWC President; Sande McGarry, SWC Treasurer
Legacy Society Committee: Cynthia Mason, Alice May, Elizabeth Nelson
Memorial Gifts for 2013 – 2014
Tim Boddy, Gloria Kurian Broder, Betty Davis, Phil Frank, Margaret Graham, Sue & Sam Hock, Linda Jones, Carl Krause, Todd Anthony Perea, Elaine Squires, Ruth Ware
---
SWCPS Annual Report:
Phoebe Fielding 2012-2013
The SWC is winding down the celebration of our centennial year and the clubhouse is beautiful, elegant and in excellent condition. This is not by chance or good fortune but the result of much hard work on the part of many members. After decades of providing a "home" for the club, by the 1990's our lovely Julia Morgan-designed building was in great need of restoration and repair. And so, over twenty years ago, the non-profit Preservation Society was founded with the sole purpose of preserving for the long term what the SWC of today was fortunate enough to inherit. The details of this enormous project have been described in the recent Club History Committee Centennial publication and do not need to be repeated here. But it is worth putting this continuing effort in context.
Many significant historic buildings are preserved and protected for posterity through an endowment. This arrangement ensures that there is financial support to sustain the structure by providing for repairs and maintenance as well as preservation and enhancement. The Preservation Society has such a goal for our building and grounds. Other people and organizations clearly recognize the importance of our clubhouse. This is why we are listed not only as a Sausalito Historical Landmark, but are also on the National Register of Historic Places. And so to this end, we have divided our financial resources (see later in this report) into two streams: one is our maintenance schedule which covers numerous specific items which will need to be addressed over the next twenty years and beyond; and the other is a restricted fund which is invested and which we augment every year from donations and fundraising to underwrite the future of the SWC.
Our funds come mainly from the membership through several sources: a portion of the dues, donations, bequests and fundraising. This last category, year in and year out, is our major source of revenue, and this past year was no exception.
Centennial Masquerade Ball
In February 2013, only a few weeks before the actual one hundred year anniversary, Preservation threw a gala Centennial Masquerade Ball. It was a festive dinner dance that sold out well before the date. During the evening, many members made donations to Preservation in honor of special individuals and to commemorate the historic occasion. These revenues will all be added to our restricted building fund and made this event a major fundraiser.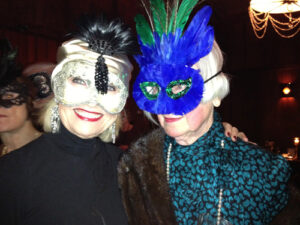 Glorious California: The Art of the Golden State
Then in May, 2013, as part of the Centennial Salon Series, an exhibition and sale of paintings and photographs was held for the benefit of the Preservation Society. This exciting event took place at the SWC on Saturday and Sunday afternoons. The chairs, Millie Amis, Barbara Lockhart and Millie Zinman who have long been supporters of the preservation of our clubhouse, created an elegant and inviting ambiance for guests to enjoy the beautiful art. This event was also an outstanding fundraiser.
Sherry Hour: Bernard Maybeck, Architect of Elegance
The Preservation Society is also dedicated to education through entertainment. Each year, this autumn program presents some aspect of local history to the members of the SWC and to residents of Sausalito. Last September, author, Mark Wilson gave a very interesting lecture on this mentor of Julia Morgan, including many beautiful slides of Maybeck's architecture, located primarily in the Bay Area.
Message for the Coming Year:
Phoebe Fielding 2013-2014
The Preservation Society is looking forward to our programs planned for this next year. Our first event will be September 25th and is our annual Sherry Hour. Our speaker, Dr. Susheel Bibbs, is an author, filmmaker and academic. She will center her lecture around her recent book, Heritage of Power. This publication is based on original research by Dr. Bibbs describing the life and times of Mary Pleasant who was an important voice in early California civil rights including the rights of women.
In February 2014, Preservation is hosting, what has become, a traditional dinner dance with a black and white theme.  The evening will be simple and elegant consisting of live music, friends, dinner and dancing.
And finally on a late April Sunday morning, Preservation will sponsor a champagne brunch followed by a fashion show. Each table will have a special hostess who has decorated using her own ideas and her own things. It should make a glorious sight in the main hall.
---
MESSAGE FROM THE TREASURER
~ Cynthia Mason 2012-2013
Dear Members:
SWCPS has worked hard this Centennial year to focus on our quasi-endowment – Permanent Building Fund.    It was a successful year and we were able to grow the permanent building fund by approximately $40K.  We could not have done it without the wonderful  support of the SWC members.  This building fund is our legacy to the future generations of the SWC.  Please feel free to always ask questions.
Fund Balances 6-30-2013
Capital Fund $223,177
Permanent Building Fund/Quasi-Endowment $176,326
The Capital fund has been brought in line with the accrual amount on the clubhouse maintenance schedule.  As a reminder, the maintenance schedule is a forecast of future expenditures that will keep our clubhouse in tip top shape for a very long time.  This schedule has been updated by Architectural Liaison and is a fluid document that includes such things as roofs, retaining walls, fences, floors, electrical, kitchen appliances etc.  We have estimated the remaining life on these many items and set aside funds so when it is time to re-do or maintain the clubhouse, funds are ready and waiting.  This schedule looks out over the next 25+ years.  This is the SWCPS road map.  Currently the capital maintenance schedule as of 6-30-2013 shows an estimate of $225K for future projects. This year SWCPS spent a total of $14.6K for projects: $1.5K for the new carpet downstairs in dressing room, $12K as a GIFT to SWC for clubhouse chairs and $1.2K for an professional expert restoration and cleaning guide for  our interior wood work.
The Permanent Building Fund is a quasi-endowment fund.  As of 6-30-2013 we have $177K in this fund.  Our goal is currently $500,000, so we are about a third of the way to our goal.  The hope is that once we come close to this goal, the proceeds should help begin to sponsor annual maintenance items on the maintenance schedule.   SWCPS charter is to ensure that the SWC Landmark Building will live on for future generations and become more self-sustaining.  Our SWCPS Legacy Society continues to educate and help support these kinds of contributions that will help future generations maintain our SWC clubhouse.
Below you will find a simple Income/Expense and Fund Balance Recap for the last three years.  If you would like any additional detail, please do not hesitate to let me know.  cynthia.mason@pacbell.net
Financial Recap 6-30-2012
| | | | |
| --- | --- | --- | --- |
| Year Over Year | | | |
| INCOME RECAP | 7/12-6/13 | 7/11-6/12 | 7/10-6/11 |
| Fundraisers | $ 50,716 |  $    36,225 |  $     23,624 |
| SWC Dues Allocation | $   9,094 |  $      8,725 | $       9,295 |
| Unrestricted Donations | $   9,360 |  $     6,535 | $       9,030 |
| Restricted Donations |  $     1, 543 | $     30,349 |  $      5,730 |
| Total Income |  $    70,713 | $    81,833 | $     47,680 |
| Maint. & Project Expense |  $    (15,288) | $    (9,717) | $     (6,461) |
| Admin Expenses |  $  (2,560) | $    (4,373) |  $     (3,345) |
| NET INCOME | $    52,865 |  $    69,995 | $     32,143 |
| | | | |
| FUND BALANCES | | | |
| OPERATING CASH |  $  13,561 |  $      6,581 | $       9,744 |
| CAPITAL FUND |  $223,177 | $  207,763 | $   157,353 |
| PERM BLDG FUND |  $176,099 | $  133,708 |  $   107,729 |
Thank you for your generosity, support, and commitment to the preservation and future of the clubhouse we call our historical landmark home.
Cynthia Mason, Treasurer 2012-2013
SWCPS DONORS
2012-2013
Alice May
Jane Short
Michele Benjamin
Alice Merrill
Janet Chapman
Mickie Lloyd
Ann Arnott
Janice Graham
Millie Amis
Ann Elston
Jann Johnson
Millie Zinman
Ann Heurlin
Jason & Kristin Stout
Mimi Reich
Anne Bomford
Jean Patterson
Mollie Squires
Anne Dinelli
Jeanne Fidler
Myra Berkowitz
Arliss Willis
Jennifer Flynn
Myralin Whitaker
Babette McDougal
Jim Henry
Nancy Curran
Barbara Kavanaugh
Jody Frederickson
Nancy Osborn
Barbara Lockhart
Jola Anderson
Nancy Phillips
Barbara Rich
Judith Lambton
Nancy Terry
Bonnie Horner
Judy Barber
Nicki Parry
Bonnie Penprase
Judy Belding
Oonagh Kavanagh
Camara Scremin
Julie Carlson
Pamela Abendroth
Carol Cotton
June Hood
Pat Ronzone
Carol Kavalaris
Karen B Roark
Patricia Ascher
Carolyn Bonn
Karen Cleary
Patricia Boddy
Carolyn Merrill
Karen Kay Solomon
Patricia Pennington
Cathy De Lano
Kathleen Earley
Paula Fancher
Charlotte Mastrangelo
Kathleen Hecker
Peggy Millson-Wu
Chris Klinck
Katrina Slattery
Phoebe Fielding
Ciji Ware
Kim Huff
Rayner Needleman
Claudia Kennedy
Lauren Gertz
Rennie Ediger
Cynnie Anderson
Leonie Denney
Robert Williams
Cynthia Mason
Leslie Harelik
Roberta Maloy
Cynthia Taves
Lillian Donald
Sally Calef
Dana Whitson
Linda Hothem
Sande A McGarry
Deborah Wintermute
Linda Levinson
Sara De Jager
Debra Andelin
Linda Neilsen
Shannon Baker
Diane Bessell
Linda Ojeda
Sharon Seymour
Diane Hansen
Linda Page
Shelby Van Meter
Dick Neilsen
Linda Swanson
Stephanie Andres
Donna Kolkey
Linda-Baldwin Page
Stone G Coxhead
Eivor Taylor
Lucy Alderman
Susan Frank
Elizabeth Nelson
Lynn Churchill
Susan Gordon
Elizabeth O'Keefe
Mabrey Byrnes-Scott
Susan Hart
Elizabeth Reynolds
Margery Schindler
Susan J Frank
Elizabeth Sealey
Margo Merle
Suzanne Visher
EV Gilbreath
Maria Hildebrand
Sylvia Ruby
Frances Nelson
Marilyn Gates
Toni Pearl-Chepin
Gail Ann Taylor
Marilyn Riede
Gail Sterling Smelick
Marinda Lobo
Helen Culiner
Marion Olin
Holland Gray
Mary DeMund
Holly Stewart
MaryAnn Dietrich