President's Message
Paula Fancher
Happy New Year everyone! I trust that you all enjoyed the happiest of holiday seasons chock full of family and friendly fun. Hopefully, you started out with the SWC's Holiday Party on December 2nd. Co-chairs Mimi Reich and Susan Gordon outdid themselves: the food was fabulous and plentiful and the décor was spectacular. Many thanks to you both for making it such a success. The children's corner was really fun (if my grandsons' enthusiasm was any indication)! Thanks to Candace Curtis, Fran Nelson and Elin Hyytinen, and perhaps others for that effort. Santa Jerry was perfect in his part and thanks also to Jean Capron for playing the piano and to all who provided the voices for the lovely carols. It seemed to me that we had a lot of neighbors visiting this year and many commented to me that they appreciate the efforts of Karen Roark and Phoebe Fielding for keeping them informed about our calendar. Several also mentioned our "good neighborliness." Let's keep up the good work.
We found out "What's Hot and What's Not" from Elaine Petrocelli (Book Passage). Her discussion of the best in new literature was lots of fun. Many who attended suggested that this become an annual event. I think that's a great idea and that we should encourage non-members to join us. Huzzahs to Betsy Stafford for making this happen and organizing the bar and yummy snacks.
We closed the SWC 2012 calendar with our annual Sausalito Players Holiday Show, "Christmas around the World", written by Linda Ojeda, with a little help from hubby, Roland, and directed by Liz O'Keefe. It was both amusing and moving. Silent Night in candlelight is always the start of Christmas for me and I am grateful for the effort you all brought to it. See you in the New Year.
______________________________________________________________
SWC Preservation Society
Phoebe Fielding, Chair
It is hard to believe that we are about to usher in 2013- the Centennial Year of the SWC. Our Club will soon have her 100th birthday and she is certainly "a grand old lady" in every sense of the word.
The Preservation Society, as much as anyone, feels excited by this coming event as our entire existence is focused on maintaining and nurturing and enhancing the grounds and building that comprise the SWC. Therefore, it is not surprising that to celebrate this momentous occasion, we are throwing a huge, elegant and very special birthday party in the guise of a Masquerade Ball.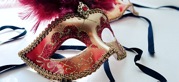 We hope that you will come and join with us to mark this very special event. The invitations go out next week, and we have a limited number of tickets, so don't delay
______________________________________________________________
SWC Scholarship Recognition Fund
Jean Patterson, Chair
Centennial Salon Series III – The Palo Alto Chamber Music Ensemble
The SWCSRF is looking forward to the return engagement of the much-anticipated — and appreciated — Palo Alto Chamber Music Ensemble on Sunday afternoon, January 27. Violinist Richard Ruby (son of Sylvia!) is once again bringing this talented quintet to the SWC stage with a selection of works from both classical and modern composers. We hope that you will join us, as it promises to be an enjoyable afternoon. (Complete event details can be found in the Calendar section of this newsletter.)
Scholarship Applications Available Soon!
Scholarship applications will be available by the end of January. If you know of anyone who is a permanent resident of Sausalito or Marin City and is planning to continue their education at an accredited college, graduate school, vocational or art school, we encourage you to make them aware of this opportunity. They may request an application by visiting our website http://sausalitowomansclub.org/scholarship/how-to-apply. Completed applications will be due in late March, scholars selected in April and awards will be made at the Awards Ceremony and Reception on June 2, 2013.
Where Are They Now?
As part of our continuing coverage of scholarship recipients from years past, this month I am pleased to present an extremely impressive young woman well on her way to becoming an accomplished humanitarian, educator and healer.
SWC Scholar Profile – Anne-Lise Maag, MD, General Surgery Resident, University of Wisconsin School of Medicine and Public Health
Anne-Lise Maag has always been interested in medicine and the sciences, perhaps because her mom was a nurse and her father a research scientist. Though interested in both medicine and veterinary sciences when younger, she says she chose to pursue a career in medicine "because of the intersection of science, ethical issues, and caring for humans."
Anne-Lise, a multi-year recipient of SWCSRF scholarships while attending the University of Michigan's medical school, is now in the 2nd of a 5-year General Surgery Residency program at the University of Wisconsin. The Residency involves training in a wide variety of surgical areas including surgical oncology, colorectal surgery, vascular surgery, thoracic surgery, transplant surgery, minimally invasive surgery, and trauma/burn surgery – her current rotation. In all of these areas, she is gaining experience in both the pre- and post-operative aspects of patient care and counseling as well as performing the actual surgeries themselves.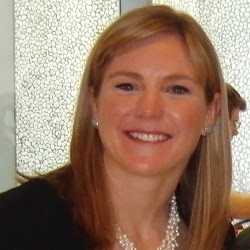 Anne-Lise Maag
As if completing a surgical residency weren't a worthy accomplishment, she ultimately plans for a career in academic research and is therefore taking two additional years to complete a Masters in Education doing surgical education research. To this end, she applied for enrollment to the Department of Educational Psychology at UW and recently submitted an NIH F32 (postdoctoral fellowship) training grant. Having received a top score, it is likely Anne-Lise will receive $65,000/year for two years to support her masters and associated research program. And, all this before she completes her last three years of General Surgery Residency!
Lest you think this phenomenal woman has no life outside the world of medicine and academia, she still manages to find time for swimming (formerly a competitive water polo player), horseback riding and crossfit training — no doubt keeping both her body and her mind in great shape! Is it any wonder that we've told her once again how very proud we are to have her among our SWCSRF past scholars!
********
We and all of the SWCSRF scholars, past and present, thank you for your support and look forward to a wonderful New Year for everyone…the best to you and yours in 2012!
______________________________________________________________
History
Sharon Seymour, Chair
This was the History Bit presented at the December 2012 business meeting by Sharon Seymour.
Several memorable events happened at the SWC 50 years ago in 1963. Two were that we accepted Anne Dinelli and Barbara Halbeck as members, the women we are recognizing today as honorary life members.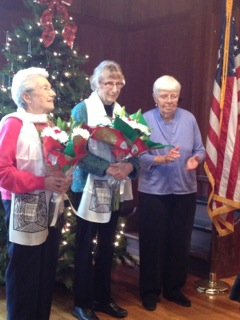 Another important event was the 50th anniversary of the SWC. A grand reception, which culminated the Golden Jubilee year, was held on May 26, 1963. One news article reporting on the event noted that "For 50 years they have been leaving an indelible imprint on the character of their picturesque little Bayside town, which is widely associated with many aspects of art." It was reported that the club activities were carried on under four sections- civic, outdoor art, music and literary. Also reported was that the club's first temporary meeting place was the Sausalito Land and Ferry Building, which was torn down, the second was the S.F. Yacht Club building, which is now the Ondine Restaurant, and the third was Christ Episcopal Guild Hall. Another article from the Marin News Guide reports "throughout its fifty years the Club has consistently promoted the cultural and social life of the community with such projects as junior dances for children, several kinds of scholarships and classes of instruction in various fields. Its musical and literary program have been among the finest in Marin County. Its annual Art Show always attracts top talent and large audiences. And the Club is no less well known for its gala parties…." The two oldest living members of the SWC attended the celebration: Mrs. James (Clara) Lanagon, who was president from1917-1920 and Mrs. J.C. (Ethel) Martin, president from1923-1924. The Sausalito News reported that city officials and representatives of Sausalito's Sister City in Chile, Vina del Mar were especially invited to attend the reception. The celebration featured 3 exhibits: 1) maps of the 300 dedicated trees that the SWC sponsored, 2) photos of beautification and planting projects undertaken by the SWC Enhancement Association, and 3) 200 historical photos. These photos were from the 300 photos that SWC member Doris Zimmer described as being collected by the SWC from private collectors and museums. From these photos 160 11″x14″ prints were made- which we still have in our archives. Paula chose a few of these to display. And with the help of Mary Ann Pacula, display copies of a few newspaper articles reporting the reception. have also been prepared. Members were invited to view the display that Mary Ann Dietrich, Paula Fancher and Sharon Seymour put together.
______________________________________________________________
Hiking
Nancy Curran, Margo Merle and Nancy Kaltreider, Co-Chairs
Monday, January 7 – 10:30 am
POINT BONITA LIGHTHOUSE Tour and Hike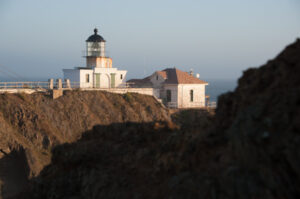 Enjoy a moderate hike in a spectacular setting from Rodeo Beach ending at the Point Bonita lighthouse where we will join a tour led by a National Park Service volunteer. We will have a picnic lunch near the lighthouse before it opens, and time permitting, we will explore the historic bunkers in the area. Those who don't want to hike from the beach can join us at the picnic grounds at 11:45 and eat before touring the lighthouse, which opens at 12:30.
Wear hiking shoes, layered clothing and bring a packed lunch.
RSVP by January 4 to Fran Nelson, 332-4768 or Jeni Flynn, 332-5648
______________________________________________________________
Book Club
Fran Nelson and Beth Garbutt, Co-Chairs
Perhaps rain doesn't seem like such a "gift" after all these rainy days, but The Gift of Rain by Tan Twan Eng truly is a gift! The title refers to a soothsayer telling the young hero that he has "the gift of rain", which she says is a mixed blessing.
It is set on the Malayan island of Panang before and during the Japanese occupation of the island during World War II. The novel is full of narrative passages with lavish descriptions of the exotic beauty of the place, and we meet many fascinating characters.
Julie Carlson will lead the discussion of this beautifully written novel. She would like us to come with a favorite quote from the book to start off our conversation.
Copies of The Gift of Rain are available in paperback and at several Marin county libraries
We usually have light refreshments, and if you feel so inclined, bring a bite to share!
Please note that we are going to our "winter hours", starting at 4 pm at the Club.
Fran Nelson 332-4768 and Beth Garbutt 332-0666
______________________________________________________________
Corresponding Secretary
Kim Huff, Chair
At the December Business Meeting we had the pleasure of welcoming two New Members.
Please update your yearbook with their names and contact information:
Donna Christie Kolkey (Daniel)
100 South St. #214
415-331-1561
dkolkey@gmail.com
Deborah Wintermute (Rand)
121 Sacramento Way
415-420-2912
deborahw84@gmail.com
Barbara Hallbeck and Anne Dinelli were honored with Honorary Life Member status in December. This is an honor bestowed upon members who have been in the club continuously for 50 years. It was a joy to celebrate them!
We look forward to welcoming another new member in January.
______________________________________________________________
Cookbook Committee
Agnes Kaprielian, Chair
When "the weather outside is frightful–and the fire is so delightful," it is comforting to try Heidi Snowden's "Chicken Enchilada Bake with Mushroom Sauce (pg. 122-123)." As the recipe notes "A great make-ahead company dish or an easy one to put together and deliver to a friend."
This and dozens of other tasty and fortifying recipes are found in SWC's "Cooking With a View." To purchase a copy, call or e-mail MaryAnn Dietrich (332-1287 or ccdsaus@saber.net).
______________________________________________________________
Amenities
Shelby Van Meter, Chair
Cheer and Encouragement
Laurie Wright – Good wishes for a speedy recovery
Dana Whitson – Good wishes in connection with her mother's ill health
Eivor Taylor – Good wishes in connection with her husband Patrick's ill health
Condolences
Stacey Fraser – On the death of her mother
Susan Fletcher – On the death of her husband Cleo
______________________________________________________________
SWC Programs and Events – Full Calendar link here.
Thursday January 3 6:30 pm Business Meeting and Tea
______________________________________________________________

Sunday January 6 Bell Book & Candle SOLD OUT
______________________________________________________________
Saturday, January 12 5:30 – 8pm Noodle Night
Give Those Poor Chicken Breasts a Break!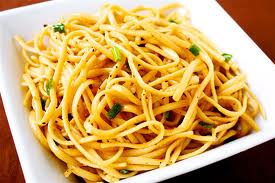 NOODLES ARE LOVED BY ALL, THAT IS CLEAR
WE ALL LOVE SOME CARBS, IN SPITE OF OUR FEAR
SO SPARE THE POOR CHICKEN; SKIP THE DIET TONIGHT
COME FEAST ON SOME PASTAS, GUARANTEED TO DELIGHT
PLEASE COME "NOODLE" WITH US!
Saturday
January 12, 2013
5:30 pm-8:00 pm
Enjoy sumptuous offerings from local restaurants
Avatar's
Kitti's Place
Aurora
Feng Nian
Saylor's
(and a surprise creation from one of our own,,,)
Casual, fun, a guaranteed sell-out *
RSVP BY JANUARY 7 – $25 to SWC
MAIL TO SELA SELESKA 80 RODEO
* proceeds benefit the General Fund
______________________________________________________________
Thursday January 17 10am – 3pm Celebrate Art!
The third of 5 Art Workshops to be held Thursday, Jan.17th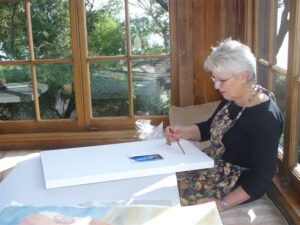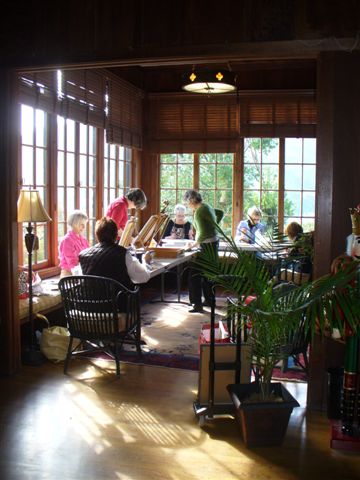 Members (and friends) who love making art are invited to start off the New Year by spending a January day at the clubhouse being creative in your chosen medium, with good company and conversation in the mix. For those who are thinking about it, but haven't yet participated, the group is growing and really enjoying the opportunity to surrender to the Muse.
There will be seasonal flowers (tulips? hyacinth? narcissus?) or, who knows, perhaps that elusive still life will appear! Or, bring something you are already working on.
Hours are from 10:00 a.m. until 3:00 p.m. Bring your own materials and your lunch. If you have any questions, please feel free to call any of the Workshop chairs: Jean Capron (331-0133), Susan Keegin (332-3093), Kate Powell (332-5787).
RSVPs are not necessary but will be appreciated!
______________________________________________________________
Friday January 18 6pm Literary Salon
______________________________________________________________
Sunday January 27 3pm Centennial Salon Series
The Sausalito Woman's Club
Scholarship Recognition Fund
presents
CENTENNIAL SALON SERIES III:
The Palo Alto Chamber Ensemble
& Reception
Sunday January 27
3pm at SWC
Violinists Richard Ruby and Julie Buckley, Violist Julie Hawkes, Cellist Bill Schneiderman and Pianist Linda Harjono will perform works by Mendelssohn, Beethoven, Lennon/McCartney and Santana.
Don't miss this delightful Sunday afternoon event
and invite your friends to join us!
Reservations recommended. $30 payable to SWCSRF
to Yvonne Spencer, 607 Main Street
Proceeds to benefit the SWC Scholarship Recognition Fund
Co-chairs: Sylvia Ruby, Susie Visher
______________________________________________________________
Wednesday January 30 Noon – 2pm Sausalito Village at SWC
Longevity Expert Walter M. Bortz, M.D., to be Featured Speaker at Sausalito Village Community Meeting
Past Co-Chairman of the AMA Task Force on Aging and former President of the American Geriatric Society, Dr. Bortz is recognized as one of America's most distinguished scientific experts on the subject of longevity and healthy aging, Dr. Bortz was, for many years, a practicing physician at the Palo Alto Medical Clinic specializing in geriatric medicine. He currently holds the title of Adjunct Clinical Professor Emeritus, Stanford School of Medicine. Dr. Bortz is the author of four books on the subject of healthy aging and longevity, including We Live too Short and Die Too Long, Dare to be 100, Aging for Dummies, and Roadmap to 100, as well as numerous articles for health, fitness, and scientific publications.
According to Dr. Bortz, healthy aging begins with the right attitude, which involves staying active every day, physically, mentally, spiritually, and socially. At 82, Dr. Bortz practices what he preaches. In addition to maintaining a speaking and teaching schedule that might be viewed as daunting to a person 20-30 years younger, He runs 16 miles a week and has run a marathon a year for 43 consecutive years.
Bring your own lunch. Water and cookies will be served. The program is free and open to all.
______________________________________________________________
SAVE THE DATE
March 21, 2013 12:30pm Centennial Founder's Day
Ladies of the Club: Our "100th Birthday" Approaches
Mark Your Calendars for:
Sausalito Woman's Club 100th Anniversary and Founders' Day Celebration
Members Only
Seating is Limited:
Reservations made in plenty of time will be your "key to success" in assuring your place at the luncheon on Founders' Day.
Send $30 (payable to Sausalito Woman's Club) by February 17 to Yvonne Spencer at 607 Main Street, Sausalito, CA 94965.
______________________________________________________________