SWC NOVEMBER EVENING BUSINESS MEETING
Thursday, November 6
Come join us! Don't forget your canned food!
6 PM – Refreshments; 6:30 PM – Business Meeting
Hosted by Barbara Lockhart and Jean Comerford
HIGHLIGHTS!
WELCOME NEW MEMBERS and their sponsors
HONOR our SWC Scholarship Recognition Fund Board
and our valued Sausalito Marin City Educators
President's Corner
Michele Benjamin
The year is coming to an end soon and we're easing into our holiday season and all the highs and lows that come in November and December.
Last month I made a list of what we as a club do for the community at large and many members were surprised by the substantial list.   I also learned how many of our members are involved in our larger community in  a variety of capacities from public libraries to tutoring programs, child advocacy, food banks, and more.
And I can't believe the volunteer spirit that brought so many of us together for Sausalito's first Beautification Day. What fun we had.   It was a three Advil day for many!
Since our breakeven budget for this fiscal year was passed last month, I've been thinking more about what our club offers its members that's free.   The best things in life are free (goes the song or saying) so what's FREE at the club.     So here's another list for this year!
FREE PROGRAMS AND EVENTS THIS YEAR!
*Business meetings and teas and cocktail hours and more
* Bridge, Mahjong, Crafts, Games
* Welcome Back Party
* Hikes
* Book Groups
* Brown Baggers
*Poetry Night
* Holiday Open House
* Players shows
* Rising International Holiday Marketplace
* Chasing Portraits
* Sherry Hour – Panama Pacific International Exposition
* Buck Institute Private Tour
* Julia Morgan Architecture tour in the East Bay
* Life Lessons from Goats – the Bakers
* Sausalito Radio Visit
* Beekeeping in Sausalito
* June Scholarship Award program and reception
In addition, we also offer support to our members post surgery or during difficult times with meal delivery, cards, network of support, etc.    And of course easy access to friends, activities, fellowship and more!
WEBPAGE – How many of you even look at our beautifully produced (by Kim Huff and sis) SWC webpage – photos, information, history, and more.  It's a great resource for all of you and if you have feedback on what you'd like to see that is missing, let us know.
OPINIONS:   We value yours…. Have you filled out your MEMBER SURVEY that was delivered by email early in the week????  This is totally confidential and your opportunity to weigh in on various issues that impact our club.   The more responses, the merrier.  We'd love to hear from you.. this is YOUR club!!!!
Gratefully,
Michele Benjamin, President – SWC – 2014-2015
Well, it's a marvelous night for a moondance
With the stars up above in your eyes
A fantabulous night to make romance
'Neath the cover of October skies
And all the leaves on the trees are falling
To the sound of the breezes that blow
And I'm trying to please to the calling
Of your heartstrings that play soft and low…
~Van Morrison
October programs…..
October began with the always popular and amazing Full Moon Hike down to Kirby Cove– replete with snacks and songs by the Blenders.  Thank you Helen Bennett and Dana Whitson for organizing this favorite walk.    Another offsite favorite was the EVENING TOUR OF ALCATRAZ and the Ai Weiwei  At Large exhibit organized by Stacey Fraser.   The packed outing of SWC'ers and friends marveled at the vistas, the site and most of all the incredible installation of this renowned Chinese dissident.   The exhibit will be at Alcatraz until the Spring and is definitely worth the trip. The kites were the favorite of many! Thank you Carolyn Ford for the Marinship Historical Walking Tour – the tour guide and actress docent made the Marinship come to life with anecdotes and stories. Attendees were raving about all of it!  And it's going to be repeated!!!   Claudia Kennedy and her competent  and devoted SWC committee members produced another standing room onlyCANDIDATES NIGHT at Spinnaker.  The three candidates for City Council were given questions by the committee and by the League of Women Voters who partner with us on this bi-annual event.   DON'T FORGET TO VOTE EVERYONE!    The Mahjong mavens journeyed to the Jewish Museum in San Francisco in the middle of the Dream Force convention (we were not deterred) for a special exhibit of MAH JONGG IN AMERICA, co-chaired by Gerry Beers and Bonnie MacGregor .  We enjoyed the exhibit, the museum store, and our corned beef/pastrami/sandwiches at Wise Deli and most of all, the pleasure of each other's company.    While bunches of us were working on beautifying Bridgeway for Beautification Day – Julie Carlson and Cindy Mason hosted an outing about Beekeepingwith our Sausalito resident beekeeper Jennifer Barry replete with honey tasting and wonderful discoveries.  Girls Night Out – Sherrie Faber hosted a very large group of close to 30 members at Barrel House with the 'pretty in pink' theme in honor of breast cancer awareness day.   We had three full tables of attendees  who enjoyed delish food and libations and each of us received from Sherrie a pink rose and a reminder to "get our regular mammograms".  Merci Beaucoup to Carolyn Ford and Margo Merle for their Brown Bag on how stress affects your back and  most importantly what to do about it with advice from Dr. Rani Druda.    Thank you to all the October chairs for your creativity and stewardship and to Fay and Laurie for bringing it all together.   What fun we had.
Scholarship Recognition Fund
Kim Huff, Chair
Thank you! Thank you! Thank you to our fellow members and friends for supporting our Fall fundraiser in support of scholarships for students in Sausalito and Marin City.
We are so grateful to our fabulous performing artists and performers:Deidre Green, Donald Reinhardt, Peek Sawyer, Jennifer Seaman, Chuck Ervin, Steve Malerbi and Alan Choy, who all donated their talent and time with a multitude of rehearsals and of course their outstanding performances!
If you were unable to see the show, visit the Scholarship section of the SWC website to find out more about our unbelievable performers. We were able to film the show, so hopefully there will be an opportunity for those who didn't see the show to see it in the future…Stay tuned for details!
A special thank you to our Scholarship Board for handling each area of the evening with precision, and our member volunteers and spouses who have done everything from decorate, to creating fabulous hors d'oeuvres and desserts to clean up the club! And of course an EXTRA big thanks to Paula Fancher and Jean Spaulding for many months of hard work; designing and perfecting this incredible show for everyone's enjoyment!
We will report how we did and see you all at the November business meeting!
Preservation Society
Cynthia Mason, Chair
What a beautiful time of year at the clubhouse! I am still basking in the glow of the SWCPS Harvest Festival that seems like a long time ago now.  It was such a joy to see so many people, including many non-members, come to our beautiful historic clubhouse and stay for hours enjoying such a wonderful time of the year.  Everyone ate lots of glorious food, bought beautiful artisan products and fine art, sampled so much wine and aperitifs that the bar was quite lonely for a time, enjoyed champagne and caviar that ended up selling out, and participated in a silent auction that had something for everyone.   All this was accompanied by a beautiful singer, Francesca Lee who sang and played her guitar through the whole event.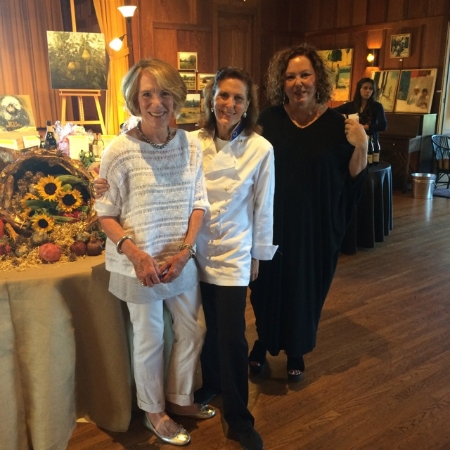 This Harvest Festival was near and dear to my heart and was exactly how I had imagined it!  I cannot say thank you enough to my co-chair Denise Gustafsson who really jumped in with both feet for Preservation.  Everyone seemed happy that day, including all the vendors who REALLY enjoyed the party and they felt it was a success.  I am so grateful for that!   I was very proud of all the people that helped pull this together and went on this ride with me over the summer break.  It took many hands and it was a beautiful day!  If you would like to see many more beautiful photos of the day, CLICK on the link.  
http://youtu.be/KK8r_N6KjvQ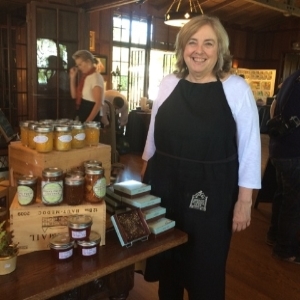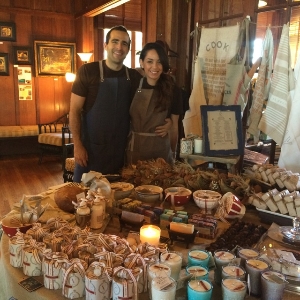 The SWCPS net earned was $13,500.  These monies will help get our Preservation capital fund back on track after a roof and sewer project that happened over the summer.   Preservation's Capital Improvement schedule tracks how much we need each year to preserve our historic building and grounds.  Over a 25 year period, SWCPS averages $25,000 a year to stay on track with the capital improvement projects that keep this landmark building and grounds safe, secure, and pristine.  This building is a home for many members, community projects, and outreach programs.  Thank you for supporting Preservation by attending our events and being a part of the Legacy Society.
Book Club
Susan Watson and Donna Christie Kolkey, Co-Chairs
Please join us at our next Book Club meeting on Thursday, November 20 at 7:00 p.m. to discuss
"My Beloved World"
by Supreme Court Justice Sonia Sotomayor.Justice Sonia Sotomayor's autobiography,
My Beloved World
, is a searingly candid memoir about her life growing up in the public housing tenements of the Bronx, going to Princeton and Yale Law School, becoming a prosecutor and a private corporate lawyer and, at age 38, becoming a federal judge. She is the first Hispanic (Puerto Rican) to serve on the U.S. Supreme Court and the third woman of four to ever be appointed to the court.  This is a book about her personal life from her own perspective and not a book about her political views although they can often be surmised.We usually have light refreshments, and if you feel so inclined, bring a bite to share.
We look forward to seeing you!Discussant: Carol CottonNo need to RSVP
AND SAVE THE DATE!  WEDNESDAY, JANUARY 28, 2015
Join NY Times best-selling author
Ayelet Waldman
 in a lively discussion of her latest novel,
LOVE AND TREASURE
– in partnership with
The
Sausalito Library
. Open to all!!!  No host bar, light refreshments,  Powerpoint slides, discussion and books for sale.  Ayelet Waldman is the author of
Red Hook Road
 and 
The New York Times
 bestseller 
Bad Mother: A Chronicle of Maternal Crimes, Minor Calamities and Occasional Moments of Grace
. Her novel 
Love and Other Impossible Pursuits
 was adapted into a film called
The Other Woman
 starring Natalie Portman. Her personal essays and profiles of public figures like Hillary Clinton have been published in 
The New York Times
, 
Vogue
, 
The Washington Post
, and 
The Wall Street Journal
. She lives in Berkeley and is married to author Michael Chabon (Kavalier and Clay) where they raise their four children.  (RSVP to Susan Watson 331-6810 or
sa.watson@comcast.net
, for this event).
Hiking
Co-Chairs: Nancy Curran, Margo Merle and Susan Watson

Sausalito Ship Building Walk
Friday, November 14  9-11:30 am 
Join us for a stroll in the Marinship to learn about the shipbuilding and repair projects currently underway.  We will visit three facilities: the Tall Ship building project, Bayside Boatworks and the Spaulding Boat-Building facility.
Representatives will lead 30-minute tours at each facility; all three are within close proximity.  After, we will enjoy lunch at Fish restaurant.
Meet at he SWC to carpool. Tour limited to 24 people.  Significant others welcome. RSVP by Nov. 10th to Carolyn Ford, 332-3409 or 
cford9393@gmail.com
.Co-Chairs: Nancy Curran, Carolyn Ford
Amenities
Linda Daniels, ChairThe following cards were sent in October…Peggy Hall – birthday in her 90's!
Margo Merle – back surgery
Ann Bomford – not well
Cynnie Anderson – wrist surgery
Susie Visher – for her Award for Excellence in Genetic Education from the American Society of Human Genetics
Paula Bruce  – for surgery
Julie Carlson – death of her mother
Corresponding Secretary
Millie Amis, Chair
The following new members were welcomed into the SWC at the October meeting.Please add them to your yearbook:
1.Sue White (Chris)
678 Sausalito Blvd
Sylvia Ruby, Rayner Needleman, Sherrie Faber
332-4785 | sue@krisam.com
2. Marian Taylor (Roger)
284 Glen Dr
Nancy Curran, Millie Amis, Leonie Denney
332-6779 | marianinmarin@me.com
3. Nawelo Shapiro (Ken)
100 Prospect Ave
Lillian Donald, Roberta Maloy, Shannon Baker
332-1860 | shakenwel@aol.com
In the 2014/2015 year we have received the following resignations:
Laura Gregory
Cynthia Osborn
Marie Allman
Carol Fraser
Mary O'Connell
Christine Gehrman
Beth Susanne
Jill Culver