JOIN US FOR THE  DECEMBER AFTERNOON MEETING
Thursday, December 4th at 2pm
Get a peek at the beautifully decorated clubhouse as we get ready to open our doors to community on Sunday
Enjoy the "cookie exchange", a favorite tradition, where you can share your bags of cookies or treats along with recipes with others… Yum yum!
Enjoy the offerings from our traditional tea table presented by STEPHANIE LEONARD and her sponsors Jean Patterson, Myralin Whittaker and Beth DiLego
Welcome new members SIOBHAN TAYLOR, DIANE BARKER, MARJORIE THOMAS, ALISON DEAL and MARIA PATERNO (and their sponsors) to the club !
______________________________________________________________________________________________
President's Corner
Michele Benjamin
LOOKING BACK AND LOOKING FORWARD!
It's that time of the year for celebrating the holidays and gathering together with family and friends before the year ends.  And hopefully remembering the people and organizations that are important to us.   Our annual holiday open house is this coming Sunday, December 7th (first Sunday in December which is the "tradition") and it prompted me to look into our history to see when this wonderful tradition began.The Holiday open house, as we have come to know it, began in 1979 entitled "Christmas at the Club" and the time frame has held steady (3 – 5 PM ) all these years.  In 1981, it was called "An American Christmas at the Club" focusing on special American traditions and in 1982, "A Christmas from the Old Country" toasting the special traditions of Christmas brought from afar.  1983 brought us, "An American Small Town Christmas", and in 1984 the theme was "A Medieval Christmas".   From 1985 on it was called the Holiday Open House and stressed the inclusion of the community at large and has retained that title and focus with creative flourishes up until the present.   Some of the other holiday related events from years past are:
Decorating for the Holidays with Flowers in 1988
Cooking light for the holidays (1989)
Children's Christmas Program and puppet show (1968)
Christmas Ornament Workshop – 1971
Festival of Santa Lucia – 1971
Presentation of SF Boys Chorus at the club with Christmas songs in 1975
Red Shoes and Mistletoe performance by Marin Ballet Theatre in 1977
Holiday Crafts Festival in 1986 – designers and local celebrities
Designer Christmas trees were on sale at holiday party in 1986 via silent auction
It's fun to look back at the rich traditions our club has sustained and the creativity of its members.
This year our December holiday programming extends past our open house. We always look forward to the Sausalito Players Holiday Show for the joy and laughter it produces for our club and community.
The Holiday Marketplace returns in a new creation this year thanks to Sherrie Faber on Friday, December 12 from 4– 7 PM (unique gifts and handmade crafts from all over the world).
Harps of Orpheus is back by popular demand on Sunday December 14th.  This Celtic harp ensemble is just the uplifting experience to balance out the holiday "noise".
In parting, while holidays are a special time for many of us, for some it is a lonely time of the year for various reasons – loss of loved ones, illness, isolation, shorter days, colder nights, and we must continue to reach out to our community …
And once again, I'm quoting Maya Angelou who best sums up my thoughts for this holiday season.
"Try to be a rainbow in someone's cloud".
Michele Benjamin
 HAPPY HOLIDAYS….. and thank you all for your support this past year…
PROGRAMMATICALLY SPEAKING……Looking back at our next to last month of the year……November was a rather quiet month for programs and much of the bustle and action centered around holiday preparations….. preparing for the feast, gathering the greens, rehearsals  – the Blenders, the Ukes, and more….all coordinated by Jenny Tomerlin and her team.  The main event, was that we kicked off the month with TO BROADWAY WITH LOVE – an SWCSRF benefit that was a sold-out show with professional singers produced by Paula Fancher and Jean Spaulding and a cast of many.   The creativity and professionalism of this event was commented on by so many and we can't thank our Scholarship team enough for bringing Broadway to the SWC!  Our clubhouse was used as a Polling Place once again and at our November business meeting we honored our Scholarship Fund, gathered food for the Marin Community Food Bank, honored a surprised Susan Gordon with honored member status (so well deserved) and welcomed our local educators.  Whew! Oonagh Kavanagh hosted a big party for Girls Night Out at Seafood Peddler and it's so fun to see people you don't see as often at the club who are able to participate in these community get- togethers.  Carolyn Ford did a second installment of the Marinship Walking Tour AND took time out to lead a second installment of "No-knead artisan bread baking"….. Oooh, love the small of baking bread at our clubhouse.    And last, Carol Cotton lead our book group and provided a lively discussion on one of our female justices, Sonia Sotomayer – and her autobiography "My Beloved World".
A little quote from Emerson as we leave the month of Thanksgiving!
For each new morning with its light,
For rest and shelter of the night,
For health and food, for love and friends,
For everything Thy goodness sends.
~Ralph Waldo Emerson
______________________________________________________________________________________________
Scholarship Recognition Fund
Kim Huff, Chair
Thank you once again for attending and supporting our Fall fundraiser "To Broadway With Love" at the beginning of November. We are pleased to announce we raised approximately $19,000 while having an absolutely wonderful time!I can hardly wait for our Chamber Ensemble event in January—mark your calendar for Sunday, January 18th, you will be enchanted with an elegant afternoon!
* * *
During December we will take a bit of a break before our attention is fully focused on our upcoming scholarship application process beginning late January. If you know students (graduating high school, continuing college and re-entry students) living in the 94965 zip code who may benefit from the efforts of the SRF, have them keep an eye on our website or our Facebook page for alerts as to when applications are available.Students are ever being faced with paying higher tuition costs and we anticipate that this will be another record year for student requests. If you have any questions regarding our application process, please feel free to contact me at
kim@kimber.net
or 892-5032.
Wishing you all a warm and wonderful holiday season!
 ______________________________________________________________________________________________
Preservation Society
Cynthia Mason, Chair
Where does the time go!  I can't believe it is almost "the Most Wonderful Time of the Year".  I am hoping this newsletter finds you and your family, healthy, happy and ready to enjoy the holidays!
Projects Update:
In case some of you did not make it to the last evening business meeting, it was announced that SWCPS has approved the costs for new garden path lighting and up-lighting for our wonderful clubhouse grounds.  This is just another example of one of those things that SWCPS saves for each year, year after year, on the SWCPS Capital Improvement Schedule/Reserve.  It always amazes me that this list of building and grounds projects that stalwart Preservationists pulled together so many years ago holds fairly true to course.  I know you have all heard it before… our historic clubhouse's capital repairs, replacements and improvements cost conservatively about $25,000 a year.  We are the savings account arm of the SWC.  When you think about what it costs to keep your own house in tip top shape and you think about the historic nature and community traffic/service our historic building provides, I am really glad we have had the knowledge and foresight of some of our annual costs to provide a roadmap and goal each year to set aside these savings till they are needed. While we still have a ways to go to be completely shored up to where we should through 2014/2015; we continue to plug away and hope we provide you fun events in the process of fundraising.
Directed Donations:
We thought we would try something new!  If you feel strongly about where you would like your donation to be directed… or just a little more "hands on" about where your generous contributions go, we have some directed donation choices for some of the larger projects we save for if you are so inclined.  Below you will see a website link where you can pick your project of choice to donate to.  We will ensure your donations go to these categories. Check it out and please let me know what you think? …your thoughts and specifics.
http://swcpsdonations.com/
Upcoming Event:
Speaking of fun events… our annual educational Sherry Hour will be held on Monday, January 26 2015 from 7:00 – 9:00 pm.  This is a free community event.  This event is co-chaired by E.V. Gilbreath and Susan Gordon.This year, "Panama-Pacific International Exposition" Illustrated talk by the Pan Pacific International Exposition 1915 historian, Laura Ackley. We will hear fascinating tales of the fair as we tour the Panama-Pacific International Exposition illustrated with amazing photos. This visual tour appeals to any audience with an interest in history and in the celebration of the PPIE 100th Year Anniversary also known as "The Jewel City"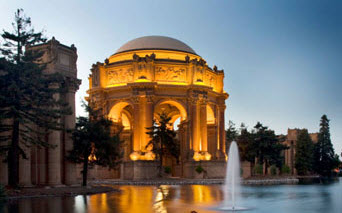 Laura Ackley holds Master Degrees both from Harvard University School of Design Architecture and Science in Architecture from University of California at Berkeley.
Lastly, I hope you have Happy Holidays, we have a very white winter, and of course that you all are surrounded by good friends and good cheer!!
 ______________________________________________________________________________________________
Book Club
Susan Watson and Donna Christie Kolkey, Co-Chairs
 Join NY Times best-selling author Ayelet Waldman in a lively discussion of her latest novel, LOVE AND TREASURE– in partnership with The Sausalito Library. Open to all!!!  No host bar, light refreshments, discussion and books for sale.
If you are planning to attend, please contact Susan Watson (331-6810 or
sa.watson@comcast.net
), so that we can plan seating and refreshments.
______________________________________________________________________________________________
SWC Emergency Awareness Committee
The RU-OK? presentation on November 17th co-sponsored by the SWC, the Sausalito Village and Age-Friendly Sausalito, was a tremendous success.  Over 40 Sausalito residents heard Sausalito Police Department's Sergeant Stacie Gregory explain the program and others available to local seniors or disabled persons.
For those who missed the presentation information can be obtained by phoning the Sausalito Police Station (415) 289-4170
Amenities
Linda Daniels, Chair
The following notes were sent in December.
Hope McCrum for her husband Ted McCrum @ aldersley
Claudia Kennedy a broken hip
Katherine Whittaker return of a former medical condition
Cis Muldoon a broken hip @ Smith Ranch Rehab
Regards and have a Happy Thanksgiving!
 ______________________________________________________________________________________________
Corresponding Secretary


Millie Amis, Chair

The following new members were welcomed into the SWC at the October meeting. Please add them to your yearbook:

Sponsors: Candy Naughton, Rennie Ediger, Donna Bachle

Susan Lyford  (Bob)

15 Rodeo Ave., #2

Christine Lindner (Eric)

373 Sausalito Blvd.

887-9267

cdlindner04@yahoo.com

Sponsors: Marilyn Riede, Patty Bacon, Susan Watson

Congratulations to Susan Gordon, our newest Honored Member!

There is no one more deserving           .

At the November Board Meeting, the following resignations were approved in good standing:
Kathryn Abbassi
Norah Frei
Frances Grant
Kathryn Keller
Katharine Whittaker
______________________________________________________________________________________________
SWC Programs and Events
Thursday, December 4             2:00 pm           Business Meeting & Tea
Cookie Exchange
Sunday, December 7               3 – 5 pm                       Holiday Open House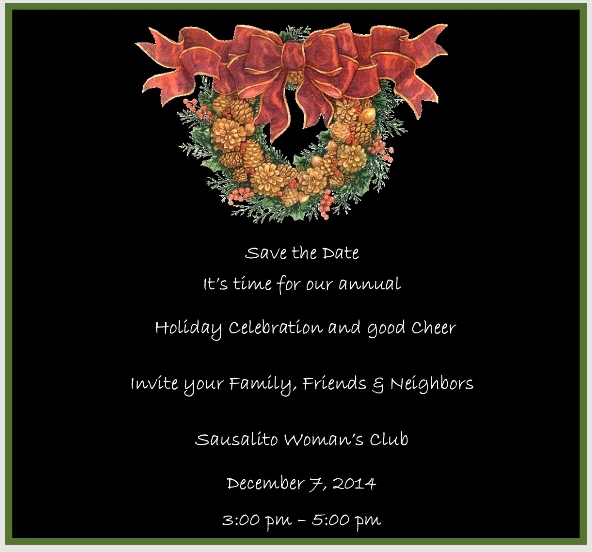 Sunday, December 7               3 – 5 pm                       Toys for Tots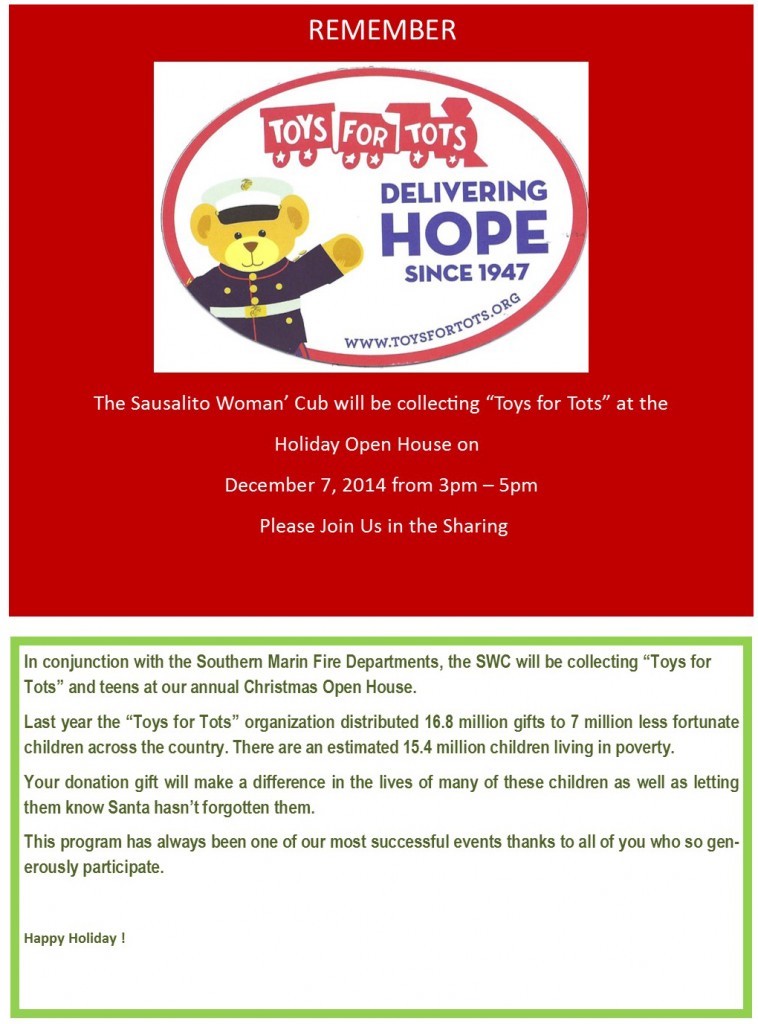 Friday, December 12                 4 – 7 pm                        Holiday Global Marketplace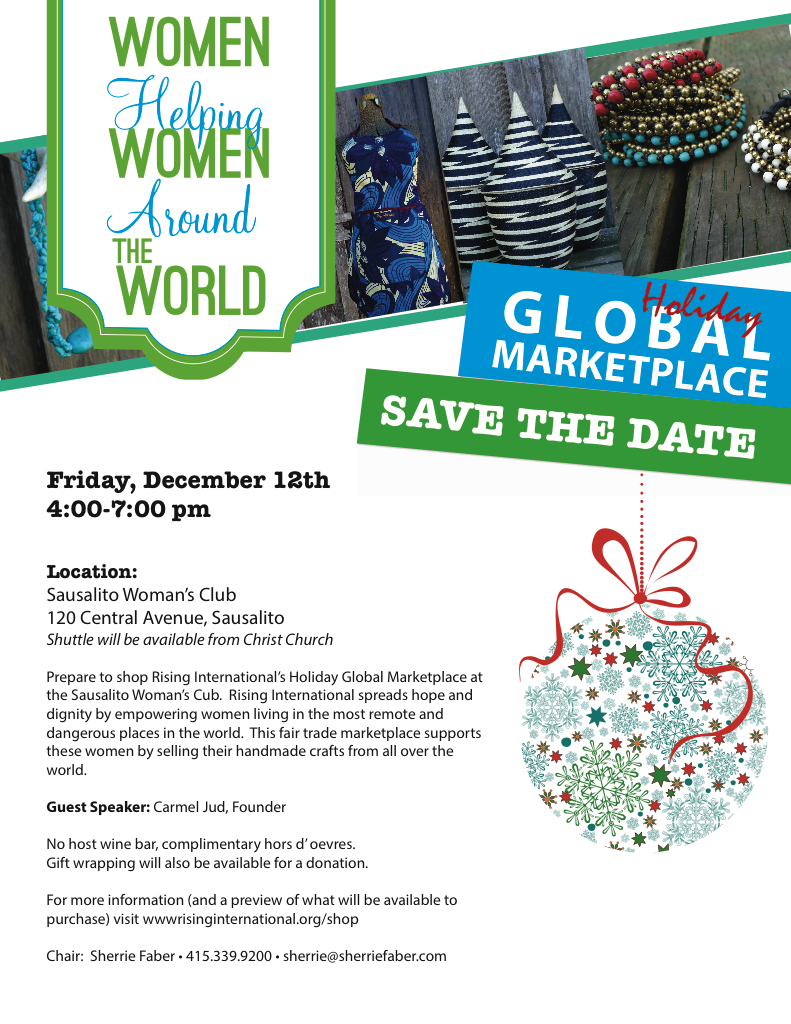 Sunday, December 14                     Doors open at 3PM           Harps of Orpheus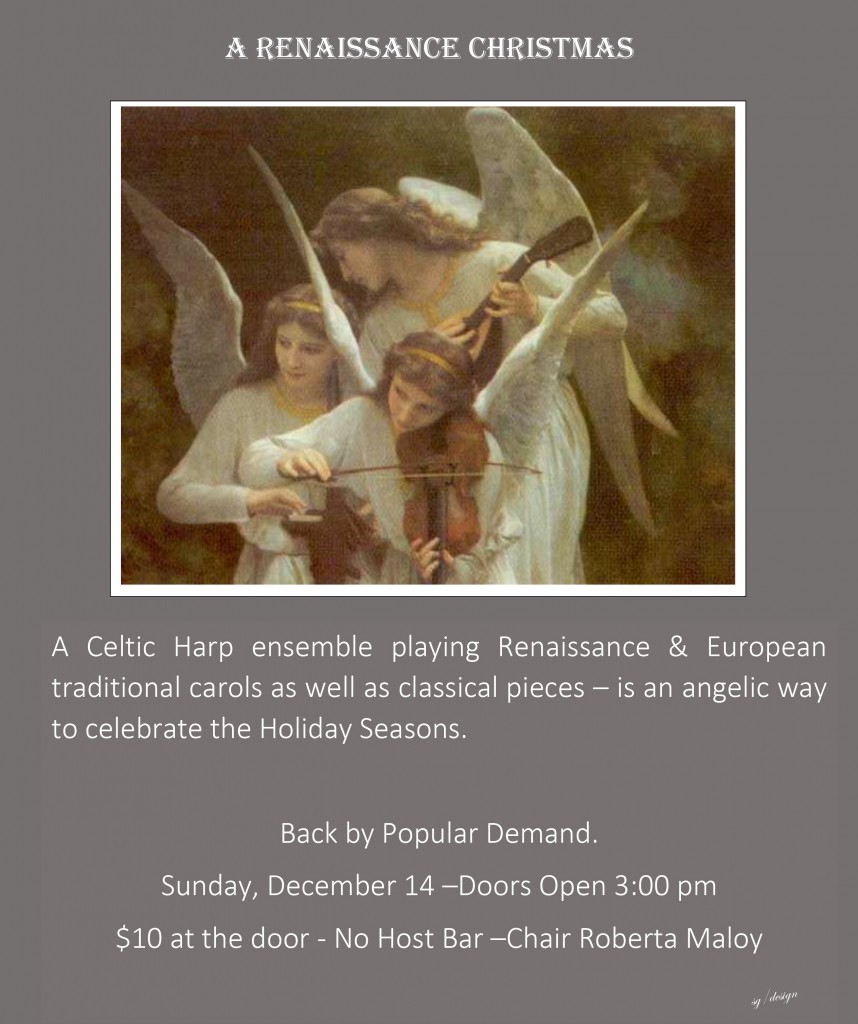 SAVE THE DATE
Friday, January 23                             7-9pm                                   Chasing Portraits

Chasing Portraits in the words of Elizabeth Rynecki, is her journey to find the lost works of her great-grandfather, Moshe Rynecki, a Warsaw based artist who painted scenes of the Polish-Jewish community in the interwar years. Part memoir, journalistic reporting, mystery, and scholarly detective, Elizabeth is on a quest to answer questions about what happened to her great-grandfather and his art in the Second World War. In doing so, she raises larger questions about legacy, history, provenance of art, loss, justice, and forgiveness.
Elizabeth is the daughter of Sausalito Woman's Club member Fern Rynecki. She grew up in a home surrounded by her great-grandfather's paintings.
Elizabeth discovered that her great-grandfather Moshe had been a prolific artist, producing close to 800 paintings and sculptures. She began to wonder why they had only 120 paintings from his original collection, and started asking questions of her family, art historians, and museum curators.
With this special evening, Chasing Portraits, Elizabeth shares her story, about the art painted by her great-grandfather, the bulk of which was lost or destroyed during the repeated devastation suffered by Warsaw during the Second World War, her family's subsequent attempts to locate the works, through many closed doors and where her family's story fits into the larger picture of art restitution issues.
The 40-minute presentation shares many of the vibrant images of her great-grandfather's work and is followed by a Q&A session.
Light hors d'oeuvres and no host bar.
Please RSVP 
Paula Fancher: paula@fancher-wickland.com
Leslie Hail: berninicl@comcast.net
SAVE THE DATE                                     Thursday, March 19           Founders Day

We sell out every year so …
It's not too early to reserve your seat.
Two tables of 8 have already been sold!
It will be a great party with a cast of 19 new members – come join the fun!
Reservations: first-come first-served
Checks are payable to SWC and mailed to Yvonne Spencer, 607 Main St, Sausalito 94965
$30 per person
$240 for a table of 8
Yvonne can't save places, so if your jinks mates want a table together, please send Yvonne 1 check ($240) with the names of the 8 members and she can seat you together.